Latest News
Announcing MONO's First Ever Self-Wash Convection Oven
Date Posted: 13 October 2016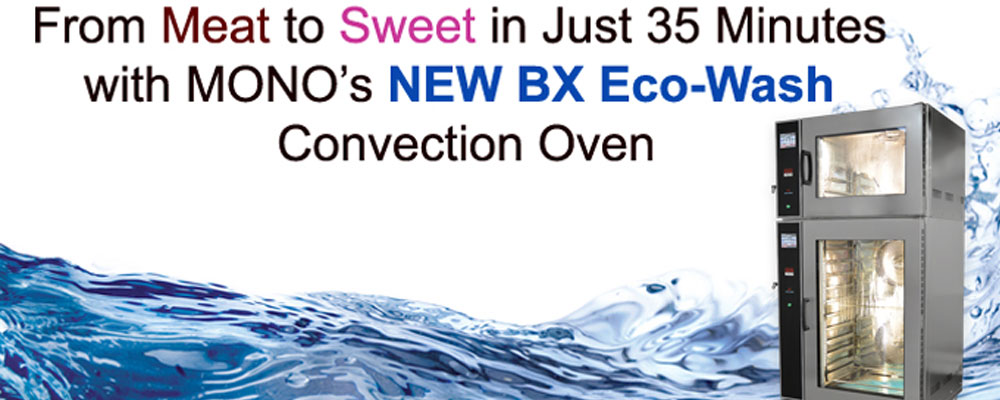 MONO Equipment is delighted to launch its superb NEW BX Self-Wash Oven range which is the result of 2 years development and testing and is one of the most innovative ovens MONO has ever produced.
This exiciting and innovative process has resulted in a completely new range of self-wash ovens which cuts through the convection oven vs combi oven question by incorporating a high-end, totally integrated Self Wash system to provide a highly effective solution for baking, roasting and cooking a variety of foods without the fear of cross contamination of odours or flavours.
Meat to Sweet in Just 35 Minutes
Although there may always be a place in the market for combi ovens, many buyers later find out to their cost that the expensive combi oven they have purchased has in fact been over specified for their needs and that they only use a fraction of its capabilities.
MONO's NEW BX Eco-Wash system incorporates a high-end, totally-integrated self wash system which provides the perfect alternative solution to a combi oven, whilst offering a highly effective solution for baking, roasting and cooking a variety of foods without cross contamination of odours or flavours - at a fraction of the price.
The Self-Wash Oven has been specially designed to provide a complete baking and self-cleaning solution which quickly and easily removes all odours and food residues from the oven chamber enabling retailers to switch between different food groups such as bacon and croissants in just 35 minutes.
7 Key Benefits of MONO's BX Eco-Wash System

- 5 Powerful, integrated wash programmes to suit every need; from a quick Hot Flush to an intensive Power Wash
- Provides the ability to switch between different product categories quickly and safely e.g. meat to sweat
- Removes the risk of exposing staff to potentially harmful chemicals; MONO's Power Max Plus cartridge is sealed and only released when the oven reaches the right tempeartures
- Staff can be employed on other tasks while the Self Wash system is in operation
- Removes the need for expensive, professional deep-cleaning
- Prevents cross contamination of food with tastes and odours
- Reduces the risk of fire due to food build up on the fan
5 Powerful Auto-Wash Programmes
The BX Eco-Wash's user-friendly, touch screen controller features an innovative, highly advanced Self Wash facility which offers five specialist cleaning programmes - the hot flush which cleans, de-greases and de-odourises the oven in just 35 minutes (based on an oven temperature of 180C), gentle wash, standard wash and power wash along with a custom wash facility which can be used to design your own unique wash programme to suit your specific needs.
Ultimate Cleaning Power
MONO's new Power Max Plus Cartridge is the very latest generation of oven cleaning detergents which has been specially selected to work with MONO's BX Eco-Wash convection ovens. The Power Max Plus Cartridges are amongst the most effective auto-wash detergents on the market and even the most stubborn, baked-on fat and grime can be removed effortlessly and simply without the need for arduous, time consuming manual cleaning or exposing staff to potentially harmful cleaning chemicals.
Available in four size formats, the Eco-Wash ovens incorporate a wealth of innovative new energy saving features and programmes including the addition of an inverter drive which allows the fan speed to be controlled precisely for each stage of the bake cycle and the ingenious Adaptive Heat Algorithm (AHA) which constantly monitors and maintains the oven's temperature for a more controlled bake temperature profile with reduced energy consumption.