Latest News
MONO'S BAKERY INDUSTRY AWARDS WINNER 2021
Date Posted: 25 October 2021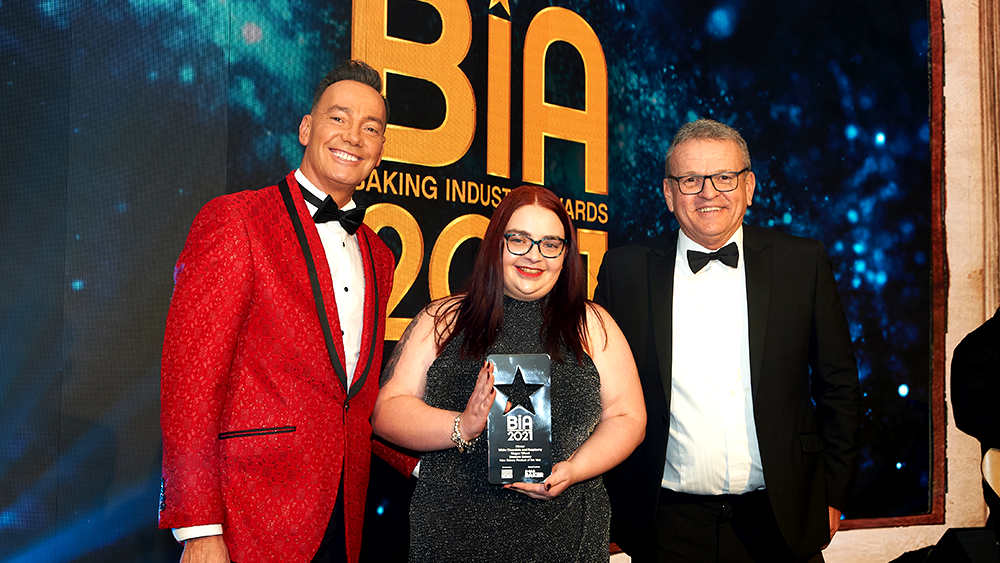 A WELL DESERVED WINNER AT THE BAKERY INDUSTRY AWARDS 2021!

At the Bakery Industry Awards on Thursday 21 October, Jessica Berry, from Seasons Bakery, gratefully received her trophy for winning the 'New Bakery Product of the Year' category award sponsored by MONO Equipment.

With celebrity Craig Revel Horwood hosting the event, MONO's MD, Andrew Jones, was thrilled to present our category award to Jessica for Seasons' truly amazing White Chocolate & Raspberry Wagon Wheel, which was a real triumph!

We wish Jessica Berry, Stephanie Shepherd and the team at Seasons Bakery the very best for the future!
MONO would also like to congratulate all the winners of this year's Baking Industry Awards:

- Seasons Bakery - New Bakery Product of the Year (MONO sponsored)
- Tim Goodwin, The Street Bakeshop - Baker of the Year
- Crust & Crumb Bakery - Bakery Exporter of the Year
- Crust & Crumb Bakery - Bakery Manufacturer of the Year
- Birds Bakery - Bakery Retailer of the Year
- Terry Tang Designer Cakes - Celebration Cake Business of the Year
- Stephens Bakery - Craft Bakery Business of the Year
- Beckleberry's - Customer Focus Award
- Seasons Bakery - Free-From Bakery Product of the Year
- William Leet, David Wood Baking - Rising Star Award
- Buzzing Bee Baked Things - Speciality Bread Product of the Year
- Muntons - Sustainability Initiative of the Year
- Simply Doughnuts - Team of the Year
- Neil Woods, Craft Bakers Association - Outstanding Contribution to the Baking Industry

Also, a big 'Thank You' to the finalists and everyone who entered the BIA Awards this year. The high standard of submissions made the judging process truly difficult, but very rewarding!

#BakeryAwards #BIA #SeasonsBakery #TheStreetBakeshop #Crust&CrumbBakery #BirdsBakery #TerryTangDesignerCake #StephensBakery #Beckleberrys #DavidWoodBaking #CraigRevelHorwood #BuzzingBeeBakedThings #Muntons #SimplyDoughnuts #CraftBakersAssociation #bakeryequipment #monoequipment #BritishBaker #BakeryIndustryAwards #BakeryEquipment