Latest News
MONO SHOWCASES NEW INCREDIBLE ENERGY-SAVING OVENS AT FOODEX 2023
Date Posted: 22 March 2023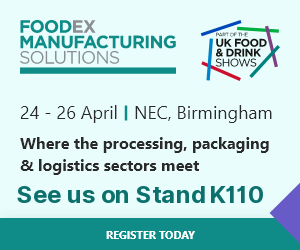 MONO EQUIPMENT SHOWCASES NEW INCREDIBLE ENERGY-SAVING OVENS AT FOODEX 2023 - HALL 7 / STAND K110
At this year's Foodex Manufacturing Solutions, the UK's largest designer and manufacturer of professional bakery equipment, MONO Equipment, will be showcasing a range of new energy-saving ovens which will set a new standard for the baking industry.
NEW ENERGY-SAVING FAN-ASSISTED DECK OVENS!
Taking pride of place at the front of our stand will be the new Fan-Assisted Bakery Deck Oven which not only provides typically 40% faster warm up times, but also reduces bake times by around 25% AND saves up to 50% on energy consumption! All test results were independently verified by an large retail customer.
This ground-breaking professional bakery deck oven is available in single or double-depth models to suit the demands of most bakeries. The energy-saving and time-saving Fan Assisted Deck Oven also incorporates a wealth of new features like 6-Phase Baking for complete control over the baking process.
A NEW OVEN AIMED AT THE CRAFT BAKER AND MICRO BAKERY OWNER!
As the rise in small micro and craft bakeries continues to flourish, it shouldn't be a big surprise to discover that the bakery oven specialist, MONO Equipment, is launching its very own mini deck oven aimed at the enthusiastic baker and micro bakery owner.
A NEW RACK / CONVECTION OVEN HYBRID AIMED AT SMALLER BACKERIES WITH HIGH PRODUCTION DEMANDS
Also being launched at this year's Foodex 2023 is MONO's New Static Rack Oven which provides the generous baking capacity of a standard rotary rack oven but in a much smaller footprint! Up to 18 trays of product can be baked to perfection using any propriety heat-proof baking rack taking 30" x 18 or 60cm x 40cm trays, but within a footprint similar to a standard 10-tray convection oven.
MONO'S BEST-LOVED CONVECTION OVENS HAVE ALSO HAD A REVAMP!
Used by many of the UK's leading supermarket chains and independent food-to-go retail outlets, MONO Equipment's flagship convection ovens have been given a face lift for 2023! The new sleek glass doors feature energy-saving led lighting and a larger, full colour touch screen controller makes the user experience so much more rewarding.
The new Eco range of ovens can be split in to four main categories; Eco (which replaces our BX Classic), Eco Connect (which replaces our Eco-Touch), Eco Connect+ which incorporates a much-requested variable fan speed, and the Eco-Connect+ Wash (a replacement for our Eco-Wash ovens).
All Eco Connect, Eco Connect+ and Eco Connect+ Wash ovens are also MONO-Connect enabled, which means they can take advantages of MONO's new cloud-based asset management system.
PROFESSIONAL BAKERY EQUIPMENT TO SUIT ALL SIZES OF BAKERIES
MONO Equipment's reputation of being a one-stop-shop for all the equipment needed to run a successful bakery is underlined by the large variety of products which will be displayed on our stand. From convection ovens to deck ovens, from mixers to sheeters, from dough dividers to moulders, from BDMs to roll plants, and from doughnut fryers to jam injectors, there is something here for everyone and every bakery business.
You can register for Foodex 2023 Here!
Don't miss out - remember to visit us on Stand K110 in Hall 7. We look foward to welcoming you!
The MONO Team