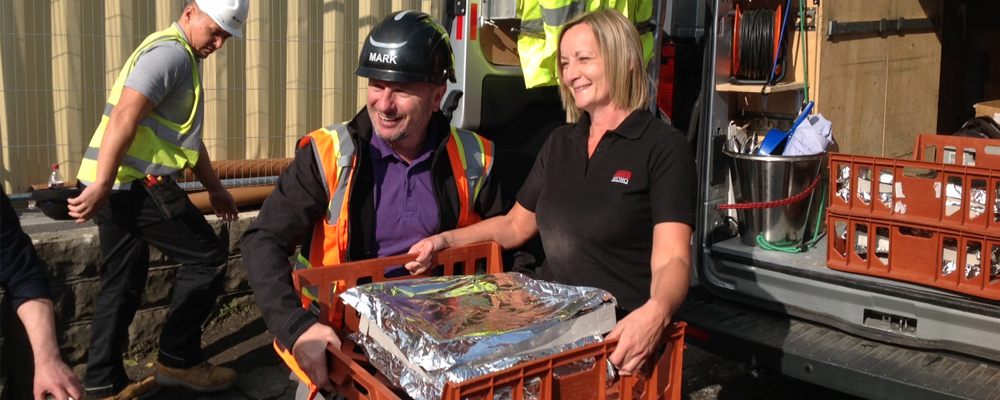 Mark Millar of DIY SOS Taking Delivery from MONO's Claire Roberts
DIY SOS, one of the BBC's most popular building programmes, headed by Nick Knowles and his team, has descended on Swansea to take on one of its biggest challenges to date; the transformation of a delapidated building into a stuning new support centre with living accommodation for young people in care who are at risk of exploitation.
The building, owned by the Fforestfach Trust, has been home to The Roots Foundation Wales, which offers vital support to children and young people in care or leaving care. Emma Lewis, chairwoman of The Roots Foundation Wales explains:
"It was so very bitter-sweet watching the domolition of our old property, The Hut, but we are just so very excited about what's to come. The prospect of having a purpose built facility which will not only allow us to conduct our vital support to children and your people in care and leaving care but also have transitional housing attached is just beyond our wildest dreams."
The success of the build is as always relying on the support of hundreds of local volunteers and tradespeople who will be working tirelessly for the 11 days of the build project. As the Big Build Swansea is literally on MONO's doorstep and the project is for such a worthy cause, MONO decided to offer its services at the very outset by offering to bake and delivery daily trays of sausage rolls, corned beef pasties, chicken tikka bites and cheese and onion pasties etc. to help feed the huge number of tradesmen on site throughout the 11-day build. MONO's offer was gratefully accepted and each day at around 10.15am our van delivers trays and trays of freshly baked goods to the site for the tradesmen's mid-morning break.
Presenter Nick Knowles said prior to the start of the build:
"The team and I are delighted to be coming to Wales once again where we've always had amazing support. This is going to be one of the biggest builds so we are going to need the community to come out in force. It couldn't be for a more important issue; to support children and young people who are in care and leaving care. We can't wait to tell their stories and build a wonderful new facility and housing so that the Roots Foundation Wales can keep helping to support these children and young people. We know this is an ambitious build but with lots of help from the people of Swansea, Wales and beyond, together, with a few laughs along the way, we'll be able to achieve something truly special."
The DIY SOS Big Build Swansea programme will be aired this November during the BBC Children in Need Appeal week.
Twitter Links: