Latest News
Enrol NOW for MONO's 'Chocolate Made Easy' with Master Chocolatier, Beverly Dunkley
Date Posted: 05 September 2018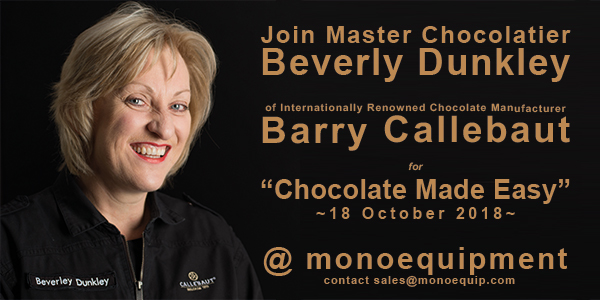 Apply Now to Attend "Chocolate Made Easy" with Master Chocolatier Beverly Callebaut at MONO Equipment
MONO is now accepting applications for our 'Chocolate Made Easy' event with Barry Callebaut's master chocolatier, Beverley Dunkley on 18 October 2018. Beverly has a wealth of knowledge and experience in the chocolate world and has studied and worked at some of the most prestigious establishments in the UK, Swizterland and Luxembourg.
During the event Beverly is looking to debunk the many myths surrounding chocolate and will show that with quality ingredients from Barry Callebaut and some simple chocolate tempering and enrobing equipment from Gami that anyone can produce mouth-watering chocolates.
The demonstration programme will include:
- Making fun, eye-catching chocolate bars made easy
- Chocolate enrobing healthy snacking bars
- Enrobing hand-made chocolates decorated with printed transfer sheets & structured sheets
- Making decorated & enrobed biscuits
- Making simple and effective Christmas Gifts!
For further information and to book a place please contact sales@monoequip.com
Places are limited and will be allocated on a first-come, first-served basis.
Date of the Programme: 18 October 2018 Venue: MONO Equipment's Test Bakery, Swansea