Latest News
MONO's Charity Bicycle Ride Raises £1,000 for Ty Olwen
Date Posted: 14 January 2014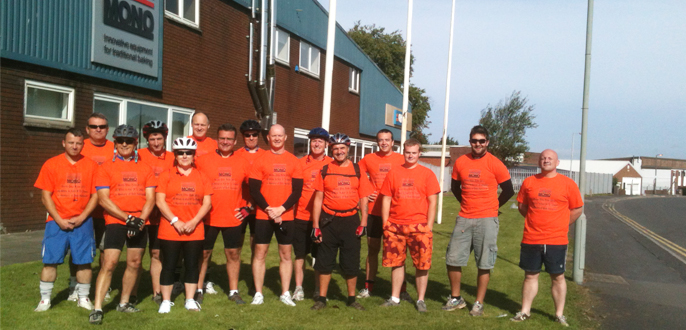 Over the last 34 years, if you have been one of MONO Equipment's UK or International customers you may well have come into contact with Bob Hancock, one of our Electrical Engineers responsible for installation, commissioning and problem solving.
Sadly on 27 February last year, after a long fight, Bob lost his battle with cancer.
Bob was well respected in the industry and was always willing to provide a valued suggestion, an experienced point of view and a helping hand. He also became somewhat of a seasoned traveller, journeying to the four corners of the globe - sometimes to some of the most inhospitable environments - to install or repair one of our machines.
To help commemorate the memory of Bob, a team of MONO staff comprising fifteen men and one brave lady took to their bicycles in August 2013 for a 45-mile charity bike ride. We have now finally received all the donations from our generous sponsors, which comes to a grand total of £1000.
The cheque was recently presented to Bob's widow, Jackie, who has donated the money to the Ty Olwen Trust which was so supportive to Bob and his family during his illness.
MONO would like to thank everyone who supported this charity fund raising event.
MONO Equipment's Philip Evans & Andrew Giggs




presenting a cheque to Jackie Hancock, Bob's wife.

Bob Hancock at an installation in Belgium 2001