Latest News
INTRODUCING MONO'S ARTISAN MINI DECK
Date Posted: 01 June 2023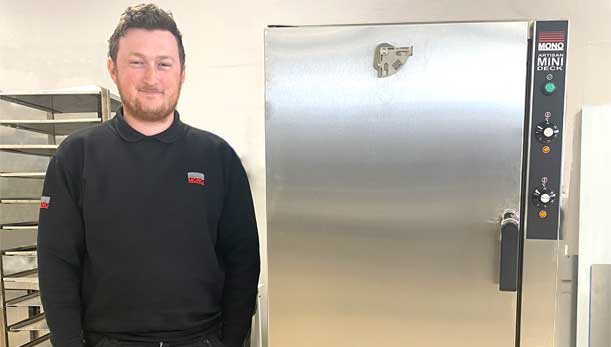 Are You a Keen Amateur Baker or Own a Micro Bakery?
If the answer to the above question is 'YES', then MONO has the perfect baking solution for you!
Introducing MONO's NEW Artisan Mini Deck oven, the ideal baking oven for the enthusiastic home baker and micro bakery. The simple-to-use compact deck oven features 3 thick baking tiles which bake oven-bottom breads to perfection each and every time.
The oven has been designed and created by Design Engineer, Dan Lewis, who joined MONO's design engineering department just over two years ago.
Created to fill a gap in MONO's extensive range of professional bakery equipment, the Artisan Mini Deck Oven provides micro bakers and hobby bakers with a specially designed bakery oven which creates the perfect crusty artisan loaf, but in a footprint small enough to fit in a domestic garage, a small retail unit or starter bakery.
When Dan was asked what his favourite part of the design process was, he commented, 'What I enjoyed most about the whole design process was actually testing and refining the various prototypes and seeing the result that each design improvement made; to see the final, fully-approved oven we have here today is a proud moment for me and is very satisfying as a designer.'
Since being showcased for the very first time at the prestigious Foodex Manufacturing Solutions earlier this year, MONO has received a flood of interest from amateur bakers who want to take their hobby to the next level.
To find out more about MONO's Artisan Mini Deck oven visit:
Please remember to follow us on our Social Media channels for the very latest news and new equipment releases:
Instagram: @monoequipment
Linkedin: @mono-equipment
Facebook: facebook.com/monoequipment
Twitter: @monoequipment
YouTube: youtube.com/monoequipment