Latest News
The Confectioners' Favourite Has Been Transformed
Date Posted: 23 September 2020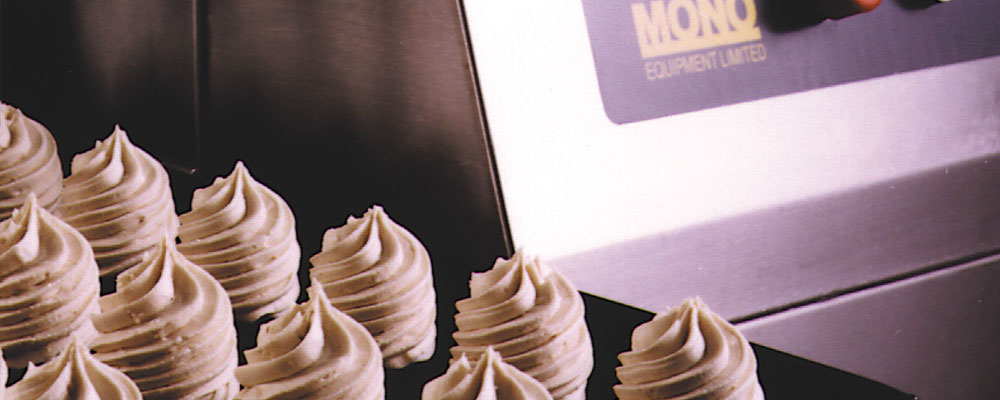 The Delta Confectionery Depositor is one of MONO Equipment's most iconic pieces of equipment and can be found in some of the most remote corners of the world, working tirelessly to produce the most delicious macarons, cupcakes, muffins, eclairs, biscuits and cookies.
After 25 years of loyal service, this absolute workhorse of a machine has now been retired and a NEW state-of-the-art depositor has taken its place - the Universal Confectionery Depositor.
Introducing The NEW Universal Depositor
Our NEW industrial-standard Universal is available in 3 different sizes 400, 450 and 600 to suit your particular tray widths and incorporates the very latest software to provide even greater programming control of the entire depositing process and can store up to 200 programmes for quick product recall.
In addition to the traditional soft mix and hard mix hoppers, the Universal is also available with the option of a combination-hopper which is capable of depositing both soft and hard mixes, therefore reducing the need to swap hoppers for different types of products.
7 Key Reasons to Buy the NEW Universal Depositor:
Soft mix, hard mix & combination hoppers available
Three sizes available to fit 400mm, 450mm and 600mm wide trays
Features a 10.4" Full Colour Touch-Screen Controller
Available with 1, 2 or 3 Hoppers
Deposits up to 3 different mixes simultaneously
Produces complex shapes with accuracy
Each hopper independently programmable
£5000.00* Trade In On Your Old Delta Depositor When You Upgrade To The Universal
MONO Equipment would like to offer you an exclusive opportunity to trade in your OLD Delta Confectionery Depositor for a NEW Universal Single Hopper Confectionery Depositor.
The current discounted price of a NEW Universal Confectionery Depositor featuring a single hopper is £31,000.00 plus accessories, however by simply trading in your Old Delta Depositor today you will save an additional £5,000 off this price, bringing the purchase price down to just £26,000.00. (UK Customers ONLY)
7 Key Benefits of Trading in your Delta Depositor:
New Universal features latest touch screen technology
Guaranteed peace-of-mind with our FREE 2-year warranty
Features quick release belts for easy cleaning
Over 200 programmes can be stored
Wirecut option available to produce cookies & biscuits
USB programmable
Combination Hopper available to suit both soft & hard mixes
For further details on the NEW Universal please click here Universal Confectionery Depositor
*Please note offer only applies to UK Customers