Demand for Artisan Bread is Booming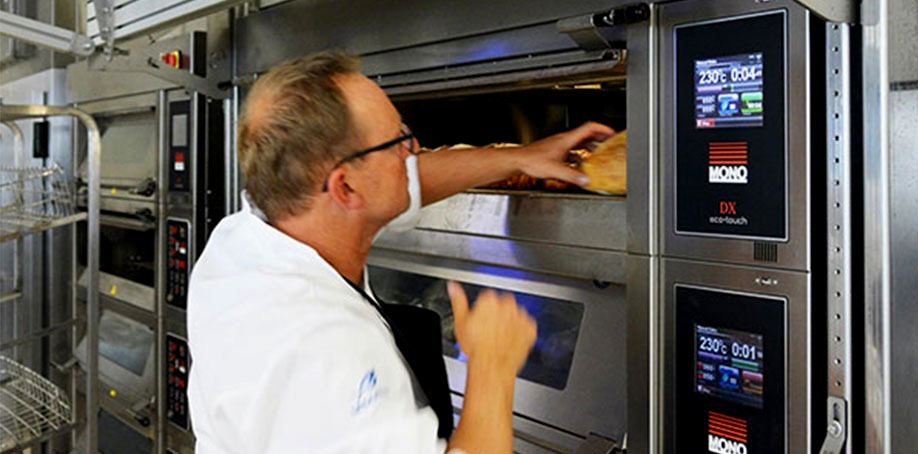 THE ULTIMATE PROFESSIONAL BAKERY DECK OVEN FOR THE PROFESSIONAL BAKER!
The demand for traditionally baked, oven-bottom and artisan breads has soared in recent years due to a growing consumer demand for more authentic, wholesome breads, produced in time-honoured ways, using original recipes and high quality ingredients.
As any baker will know, baking such these top quality breads requires a professional deck oven with a solid sole plate and a steam system which can produce a beautiful crust with an outstanding sheen.
MONO Equipment has been designing and manufacturing professional bakery deck ovens for almost 30 years ago and has improved, refined and re-invented the range during this period, culminating in the DX Harmony Modular Bakery Deck oven we have today.
Our
Harmony Modular Deck Oven
is one of the most versatile deck ovens available; its modular design making it ideally suited for installation in bakeries with limited access or those located in upper stories or basements as each separate deck is delivered and assembled on site.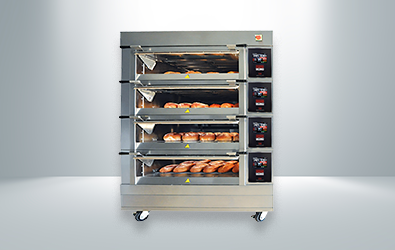 PROFESSIONAL BAKERY OVENS: DESIGNED BY BAKERS - FOR BAKERS!
7 Key Features of MONO Equipment's Harmony Deck Oven

Available in 1-4 tray width models
Can be stacked up to 5 decks high
Single-piece, heavy sole plates for evenly distributed bottom heat perfect for traditional oven-bottom bread
Independent controls for top and bottom elements to create the perfect balance of heat
Each deck separately controlled for complete flexibility
All decks have a generous 8" crown
Modular components make it suitable for installation in basements or above-ground-level locations
AVAILABLE WITH INTEGRATED DECK SETTER...
MONO's Integrated Deck Loader has been specially designed to work with our Harmony Modular Deck Oven range and is available on the majority of oven configurations which are between 3 and 5 decks high.
Ergonomically designed to effortlessly load the oven's sole plate with dough
Precision-balanced counterweight system provides smooth and easy movement of the setter between decks
Locking mechanism secures the setter at the correct height for each deck
Resting position of the setter at hood height ensures the setter is safely out of the way and valuable space below can be utilised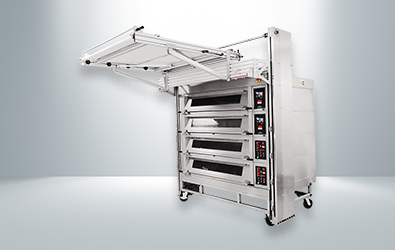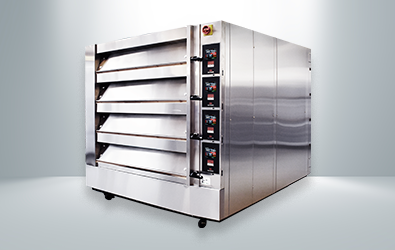 DOUBLE THE DEPTH - DOUBLE THE CAPACITY!
In response to customer demand for increased baking capacity, MONO has taken our standard Fixed Deck oven and enlarged it to take double the capacity whilst retaining the perfect bake quality of the original.
This new Double Depth Deck oven is ideal for larger artisan bakeries and busy instore bakeries which need high volume baking capacity.
Configuration is 3 trays wide, 4 decks high, 2 trays deep
Each deck holds up to 6 baking trays, providing up to 24 trays of product per bake
Perfect for tin loaves, bloomers, farmhouse loaves etc
Integrated steam system ensures a perfect crust each and every time
Integrated Deck Loader also available for this model
AVAILABLE WITH INTEGRATED ATMOS BASE PROVER...
Often the space underneath a deck oven is either racked-out or simply left unused. So why not use this valuable space for additional proving capacity?
MONO's Integrated Atmos Base Prover has been designed to fit our range of professional deck ovens and not only looks great but also provides a convenient proving facility.
Available for 1 to 3 tray wide models
Mains water supply connection removes the need to manually fill the prover
Features Steam On/Off button for either wet or dry heat
Manual temperature settings for complete control of humidity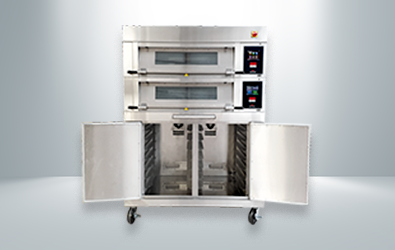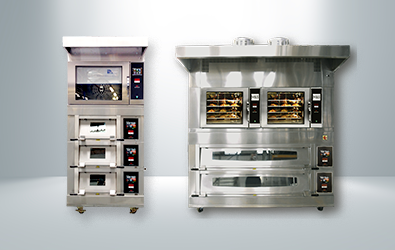 DECK & CONVECTION COMBOS FOR TRUE VERSATILITY
For the ultimate in baking flexibility why not take a look at MONO's Convection / Deck combinations which provide all the benefits of a professional bakery deck oven with the added benefit of quick and easy convection facility which is ideally suited for bake-off products or when smaller batches are needed.
Can be configured to suit your needs
Range of ready-designed combinations available
Can be accessorised with our range of Base Provers and Extraction Canopies
Provides true flexibility to bake true artisan oven-bottom bread along with a range of bake-off or other pastry / confectionery products
PACKED WITH ENERGY-SAVING FEATURES...
One of the most striking aspects of our deck ovens is the innovative Colour Touch-Screen Controller which is packed full of innovative programmes and energy saving features. The vivid, touch screen provides a colourful, user-friendly interface via an icon-driven menu system which provides the baker with a visual update of each stage of the baking process.
7-Day 24 Hour Timer for Bakery Planning efficiencies
Energy-Saving Sleep Mode

reduces energy consumption between bakes

Auto Shutdown removes the chance of the oven being left on by mistake
Integrated Steam System removes the need for expensive steam pods
Thick Slab Rock Wool Insulation for exceptional heat retention
240 Bake Programmes for instant recall and use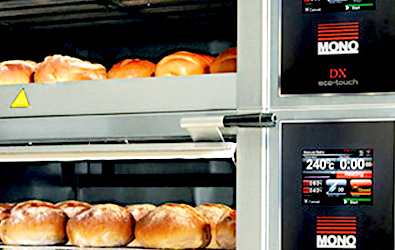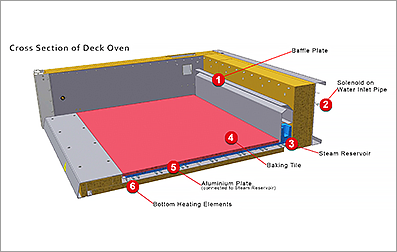 PATENTED INTEGRATED STEAM SYSTEM - NO EXTERNAL STEAM PODS NEEDED...
MONO's unique Cumulus Steam system is a highly efficient and effective steam generator which doesn't require any additional steam generators or steam pods.
The Integrated system produces the perfect quality and volume of steam each and every time to produce a beautiful, even, shiny crust.
No need for expensive steam generators or steam pods
Reduces maintenance & lifetime costs
Water pipes can be easily cleaned or replaced with minimum disruption
No drainage required
WHAT CUSTOMERS ARE SAYING ABOUT MONO'S PROFESSIONAL DECK OVENS...
"...these beauties give sourdough crusts like you wouldn't believe!"
Authentic Bread Company
Gloucestershire
"The best deck oven I've ever used."
Lance Gardner (ex Harrods baker)
Ty Melin Bakery
Cardiff Bay
"Cracking piece of kit! You can always trust and rely on a Mono deck."
Ben Welch
The Garage Bakehouse
Market Harborough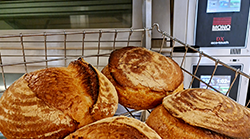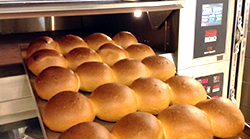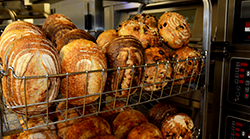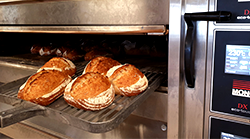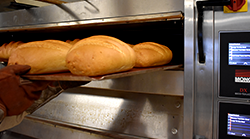 DESIGNED AND MANUFACTURED IN THE UNITED KINGDOM...
MONO Equipment is renowned for designing and manufacturing specialist bakery equipment and has been doing so for over 70 years. This legacy of British Craftsmanship, employing time-honoured skills combined with the very latest technological advancements, produces some of the most energy efficient deck, rack and convection ovens available from MONO equipment.
Today, MONO Equipment is an established international British brand with a worldwide reputation for the outstanding quality, reliability and longevity of its equipment; all of which is still built by time-served craftsmen at its manufacturing premises in Swansea, South Wales.
Buying from MONO Equipment has never been easier as not only will you be purchasing some of the best quality equipment Britain has to offer, but you will also have complete peace-of-mind that each MONO manufactured machine comes with an extended 2-year warranty.
Please contact our Sales Team today for further information